Nippon Steel Trading Establishes Coil Center in Indonesia
Nov.07,2011 – Japan Metal Bulletin
<![if !vml]>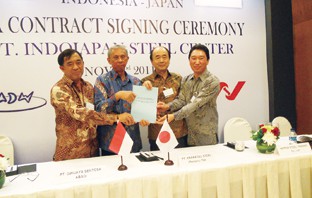 <![endif]>Nippon Steel Trading, Japanese major steel dealer and a subsidiary of Nippon Steel, announced on Friday the firm establishes a coil center (CC) for automotive parts in Indonesia in cooperation with Krakatau Steel, Indonesian largest steel maker, Adyawinsa Dinamika, Indonesian automotive part maker, and Dwijaya Sentosa Abadi, Indonesian coil center. CC will start operation in January 2013. Capex totals US$ 37.5-38.0 million (approximately 2.9 billion yen). Nippon Steel Trading provides steel processing and delivery service for local or Japanese automotive part makers in Indonesia where four-wheel vehicle production is expected to increase largely. This is the first CC in Indonesia and the eighth offshore CC worldwide for Nippon Steel Trading. In Indonesia, other Japanese major steel traders have recently activated CC establishment.
CC is named Indo-Japan Steel Center (IJSC) and located in Karawang City, about 55 kilometers south from Jakarta. Capital fund is 100 billion rupiahs (approximately 900 million yen), each 30% controlled by Nippon Steel Trading, Adyawinsa and Dwijaya and rest 10% by Krakatau. IJSC will install one slitter and one leveler with processing capacity at 10,000 tonnes per month. Nippon Steel Trading sends the president. IJSC aims annual revenue at approximately 4 billion yen in 2013 with 70 employees.
Nippon Steel Trading has established a local company in Jakarta in 2006 and increased steel export to Indonesia to 100,000 tonnes per year from previous 40,000 tonnes per year. Nippon Steel Trading plans to cultivate local customers through CC, starting product supply mainly to Adyawinsa. IJSC purchases cold, pickled and surface treated steel coils mainly from Japan while procures coils from Krakatau Steel along the users' orders.
Japanese four-wheel vehicle makers are increasing investment in Indonesia and building up local factories. Four-wheel vehicle sales in Indonesia are expected to reach 900,000 cars in 2011.
Nippon Steel sets up joint venture with local firms
Linda Yulisman, The Jakarta Post, Jakarta | Fri, 11/04/2011 9:26 AM
<![if !supportLineBreakNewLine]>
<![endif]>
<![if !vml]>

<![endif]>Nippon Steel Trading Co., Ltd., the steel-trading arm of Japan's largest steel maker, Nippon Steel, has set up a joint venture with three local companies to produce steel for the fast-growing automotive industry in Indonesia.

The firm's president, Tetsuo Imakubo, said on Wednesday evening that his firm would control a 30 percent share of the newly established joint venture, PT IndoJapan Steel Center, while the rest would be held by its partners: automotive parts producer PT Adyawinsa Dinamika (30 percent), steel producer and distributor PT Dwijaya Sentosa Abadi (30 percent) and state-owned steel firm PT Krakatau Steel (10 percent).

"With the establishment of PT IndoJapan Steel Center, we'll further increase our trading activities in Indonesia," he said during the joint venture agreement signing ceremony.

Imakubo said that the joint venture would add to its current 15 steel processing centers, seven of which were located outside Japan, including in China, Thailand and Vietnam.

Markus Maturo, the president director of Adyawinsa, which currently supplies various components for major automakers operating in Indonesia, such as Daihatsu, Toyota, Nissan and General Motors, said that in the initial phase, IndoJapan would invest US$38 million to start its business, which would be used to build a plant in a 4.8-hectare area in the Mitra Karawang Industrial Estate in Karawang, West Java.

The plant, designed to annually produce 120,000 tons of sheet steel, will be built in November this year, and is expected to start operating in January 2013.

"We hope we can use as much raw material produced by Krakatau Steel as possible, but we'll also source materials that it still cannot produce from Nippon Steel," he explained.

According to Markus, the plant's total output will be allocated for sales in the domestic market as the local automotive industry grew at a fast pace, which brought a trickle-down effect on demand for automotive parts.

"Indonesia is such a big market and in the future, local automakers will produce low-cost cars in line with the government's program in 2013, with a requirement of certain local content. We hope that our production can support this need," he said.

Recently, Industry Minister MS Hidayat said that dozens of autopart makers would set up plants in Indonesia to fulfil demands from large autocar makers, which had already committed to expand their production capacities.

The automotive industry has been one of the priority industries in Southeast Asia's largest economy, and has contributed largely to the overall industrial growth.

Indonesia's economy, which has grown more than 6 percent in each of the past two years, has driven the country's car sales to a record high.

Last year, the country's total retail car sales rose by 52.36 percent to 744,895 units in 2010, and up to the third quarter this year, sales had reached 658,009 units, nearing the 800,000 target for 2011.